News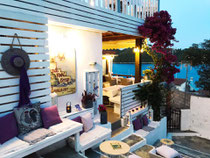 SUMMER SEASON 2018
After a lovely restful Winter in Skiathos I am now getting geared up for, hopefully another busy Summer.
I will be making a few changes to the Menu but it will still be of the same high standard.
Looking forward to seeing old and new guests this Summer
when we will be opening around the 7th May.
Best Wishes to all
Pam and her Team X
April 30th 2014
Printed in the travel section of The Guardian newspaper
Regarding the Sporades and Skiathos Town
"Where to eat: The Final Step
Probably the best dining in town, if not the Aegean. The Final Step is run by Pam and offers her modern Mediterranean twist on local produce; for instance the grilled octopus starter is not only perfectly tender but comes with added flavour of a sweet chilli sauce.
+30 24270 21877, finalsteprestaurant.com, slightly expensive"
February 19, 2013
Welcome to our new website. You'll find everything you need to know about us here on these pages. Contact us if you have any questions!